23 November 2019
Doing one thing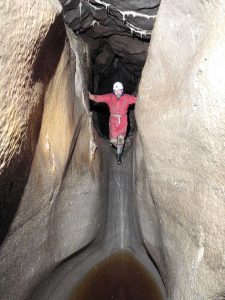 Wilf Taylor's Passage, Lancaster Hole
It was Eleanor Roosevelt who is attributed with the quote: "Do one thing every day that scares you." She was a political figure in her own right and most prominently was First Lady of the United States for over 12 years until April 1945.
It wasn't difficult to come up with my one thing today.
I got invited along on a caving trip to the Ease Gill Caverns. The strange thing about this is that, despite living locally for well over a decade, I had no idea about this cave system. It's the longest system in the UK° coming in at around 41 miles. It's just a few miles from my home. The entrance involved a 34m abseil down a shaft known as Lancaster Hole. It's a little difficult to describe the route after that. Mainly because, as a caving novice generally, and very much new to the Ease Gill Caverns I had only a vague notion of where we were. Apparently though, according to one website,° the "Lancaster Hole through trip is a classic." This seems to involve finishing at a place called Wretched Rabbit while we exited via the 'Manchester Bypass'.
It was impressive. And, I'm certainly not 'cave-fit' with the whole experience offering a full body workout. The last hour was a lot more physical and there was a lot of scrambling around and over greasy boulders, some tight crawling at times, and much thrutching, bridging, and cursing as we gradually covered ourselves in mud from head to toe. There was one, er, interesting traverse on a slippery shelf above a large drop, but we had the reassurance of fixed ropes and 'cow's tails' to clip into them. By caving standards I don't think any of the crawls would be regarded as tight but they didn't feel too loose either. I had to consciously work to suppress any bubbling panic.
It could certainly be parked in the 'scary' slot today but it never got out of shape. The "scary" part of Roosevelt's sentiment feels like it just about nudging ourselves out of our comfort zones. It doesn't need to be a new sport, especially one, if you'll pardon the pun, is rather niche. Perhaps the best aspect was the chance to spend a few hours with some like-minded people who I got to know a bit better. I will ache for a week though.
Image by Langcliffe under CC-BY-4.0
---
Previous post
Black Friday and the Diderot effect
Black Friday, much like Christmas, has gradually extended in scope. The word "Friday" is doing some heavy lifting to justify the sales blitzkreig
Next post
A passing thought on the D-word
What is it about the verb "to die" and the word "death"? In recent weeks and months I find myself more and more distracted by the inability of our