7 January 2022
More numbers — this time on exercise
So, my post two days ago was about being wary of chasing numbers. How better to follow up than to chase some more numbers? This time some overall stats on my exercise from 2020 to 2021. Firstly, my numbers from 2020 in summary: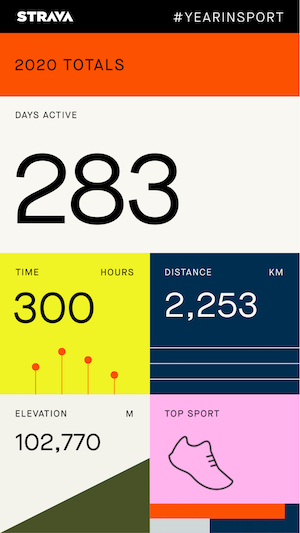 Then the numbers from 2021: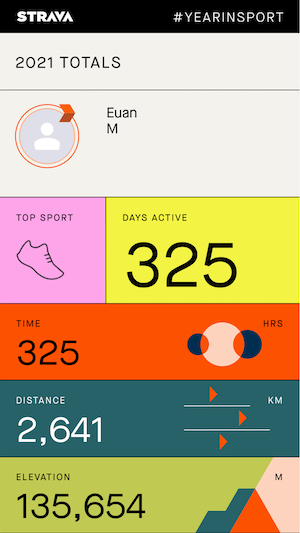 A very satisfactory improvement. It's all a bit skewed due to the pandemic as working from home has made it, paradoxically for me, easier to get exercise. A rare privilege for which I am very grateful. And — touch wood, fingers crossed — I have managed to avoid any significant injury but circumstances may make it harder to be so consistent with my running in 2022.
Almost all my exercise is running but I simply couldn't manage the volume if I was out slapping feet on tarmac. It's all on varied terrain, mostly up the fells and on hilly trails as the elevation data show, and on trails and that seems to make a huge difference to my overall tolerance. I suspect it is also much better for my mental state and it is easier to go out and simply enjoy the experience when I am a bit fatigued. It has become almost comedic, when I have been away in a city, how I end up pinging a calf muscle when I go for even a moderate 10k on the roads. And, I have avoided any sort of racing at all. My long post about the Ring of Steall fell race in 2017 should answer any questions on why I don't go for races.
My main aim for 2022 is to get myself a regular bodyweight exercise habit. I am just aiming at the minimum to maintain strength and some flexibility and offset the drop off from ageing. I've no ambitions beyond that. I am very aware that some kind of strength training is probably the single best way to reduce the risk of injury. Want to check the evidence? This systematic review and meta-analysis showed a dose-response relationship between strength training and its preventive effect on injuries.
---
Previous post
Sun up on Winder
A couple of days ago was the latest the sun will get up and it has already been taking a little longer for the sun to go down since we got over the
Next post
On giving up on books
Another post on the theme of reading a little less… Just when is it reasonable to give up on a book? This used to be something I almost never did,