27 January 2020
The Ascent of Nanda Devi by
HW

Tilman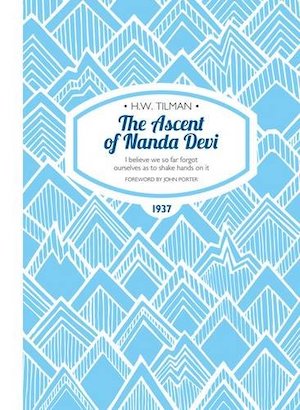 There are few figures in the 20th century with as remarkable a story as HW Tilman.° He will be well known to anybody who has spent time working through any of the rich literature we enjoy on mountains and exploration. Inevitably, it won't be long before your attention is drawn to the books of Tilman and his co-explorer Eric Shipton.° They are a justly famous pairing, though less celebrated beyond adventurer circles, whether armchair or active. I was going to write 'sadly' there, but given the style in which they went about their lives, there seems little to regret.
I remember, with great excitement, when the seven collected mountaineering exploration books by Tillman were published in the 1990s. The larger volume still sits on my bookshelf but the very size of it does somewhat restrict its use. As handsome a volume as it is, it's not easy carting around 900-odd pages worth of hardback book.
I was delighted to discover that the Tilman (and Shipton) books have now been made available as individual volumes and also as e-books. So, I was able to enjoy The Ascent of Nanda Devi (1937) on my Kindle. I can scarcely add to the fine words that have been written about Tilman. He has a thoroughly laconic style, much imitated by would-be literary mountaineers, and famous enough in the 1950s to have helped inspire the parody, The Ascent of Rum Doodle.°
On the front of the new book it states: "I believe we so far forgot ourselves to shake hands on it" quoting Tilman's self-parodying line on reaching the summit. It's a delight.
---
Previous post
January Debrief — The Political Doctor
My Debrief for the January 2020 issue is available on the BJGP website.° It was an odd one to write and it already feels like a long time ago. The
Next post
Catch and Kill by Ronan Farrow
Harvey Weinstein is appearing on television regularly as his trial continues. He looks broken and frail, a shell of a man, but I find it easy to