28 January 2020
Catch and Kill by Ronan Farrow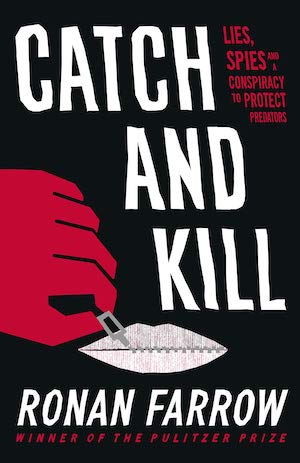 Harvey Weinstein is appearing on television regularly as his trial continues. He looks broken and frail, a shell of a man, but I find it easy to harden my heart and watch, with grim satisfaction, some semblance of the justice process playing out. Before reading this, I understood the gist of the story but I hadn't read exhaustive accounts in the mainstream media. In Catch and Kill°, Farrow lays it all down for inspection.
In some ways, the pictures of Weinstein now remind me of a few hard men I met when doing prison medicine. Only they weren't hard men any more. They were weakened, spent, and preyed upon. They had meted out some violence in their time and were now, in their turn, feeling the threat. The difference is that Weinstein is facing appropriate legal actions and not some extra-judicial beating. And perhaps my biggest emotion when seeing Weinstein looking so elderly is one of regret. It has taken too many years and too many victims to get to this stage.
Catch and Kill portrays Weinstein as a predator and a man who deserves to face the full weight of the justice system pressing down on him. The book grimly details Weinstein's modus operandi and Farrow's dogged, if not plain obsessive, pursuit of the story. Farrow's descriptions of the establishment, "the great white predators"°, closing ranks is enough to make you retch. Farrow also records in the book how he was trailed and investigated by a shadowy Israeli security company, a "private Mossad", employed by Weinstein. NBC do not come out of it well. Actually, very few do. Perhaps only the women who went through it and the ones who were able to steel themselves to resist, to tell their story. And, Farrow as well, he certainly went through the wringer.
One small point, but it needs to be mentioned. I listened to the audiobooks and I have no idea what the producers were thinking of in letting Farrow do the accents. You will read many reviews commenting on it. The only thing I can say is that they did, as the book went on, grate less and less, and the story is too compelling, too astonishing, to even consider sacking it. Don't let it stop you reading this important book.
---
Previous post
The Ascent of Nanda Devi by HW Tilman
There are few figures in the 20th century with as remarkable a story as HW Tilman.° He will be well known to anybody who has spent time working
Next post
Narconomics by Tom Wainwright
Narconomics has been on my reading list for a long time now and I'm sorry I didn't get to it sooner. It's a sharp analysis, informed and