15 December 2019
The pleasure of unexpected snow
It was, completely unexpectedly, and rather joyfully, snowy today. I stumbled out of bed in the half-light and was surprised to see snow nestling, Dickensian style, on the skylight window. Maybe I just hadn't really been paying attention to the forecast.
It wasn't freezing outside and underneath it was rather muddy but the dogs were ecstatic to be out, frolicking around, and it was the puppy's first experience of snow. Both dogs ended up with mutiple globes of snow dangling from the back of their legs.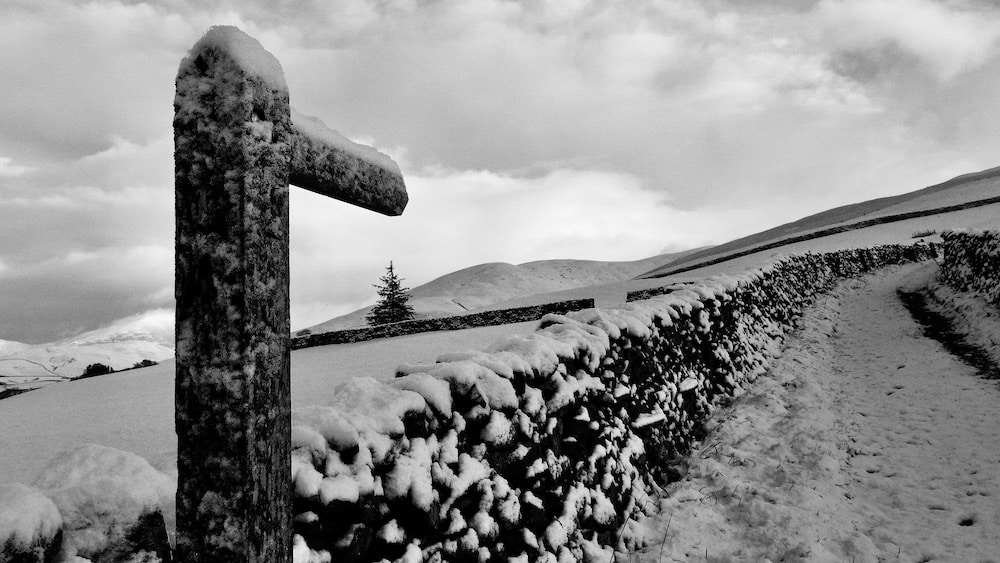 This is the track that takes you up to Winder from Howgill Lane. Dead ahead is the the Nab, not much more than a flank with a pseudo-summit that leads up to Arant Haw. I trudged up Winder today. No running for me as my right knee is unhappy with life, aching like hell and with some tenderness on the medial joint line that has sprung up out of the blue. I didn't tweak it and it didn't even start hurting during a run. It all just kicked off a few hours after a gentle run on the flat. Odd. I'm hoping it's trivial and it just needs a few days to calm down. In that regard, the snow is entirely welcome as walking doesn't feel like such as drag when you are in the snow and any real running isn't an option in any case.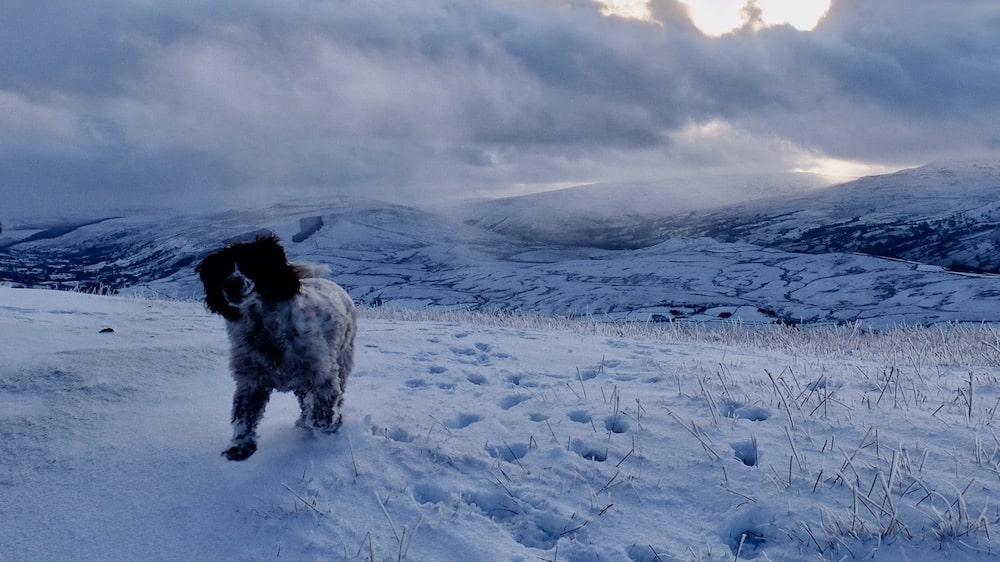 The odd half light of snow is so hard to capture. I almost always prefer black and white in any case (it's a colour blindness thing°). The view is south east from the summit of Winder — the trig point is just out of shot on the left — and the Frostrow Fells are the first line of lower hills with Dentdale sitting just in behind.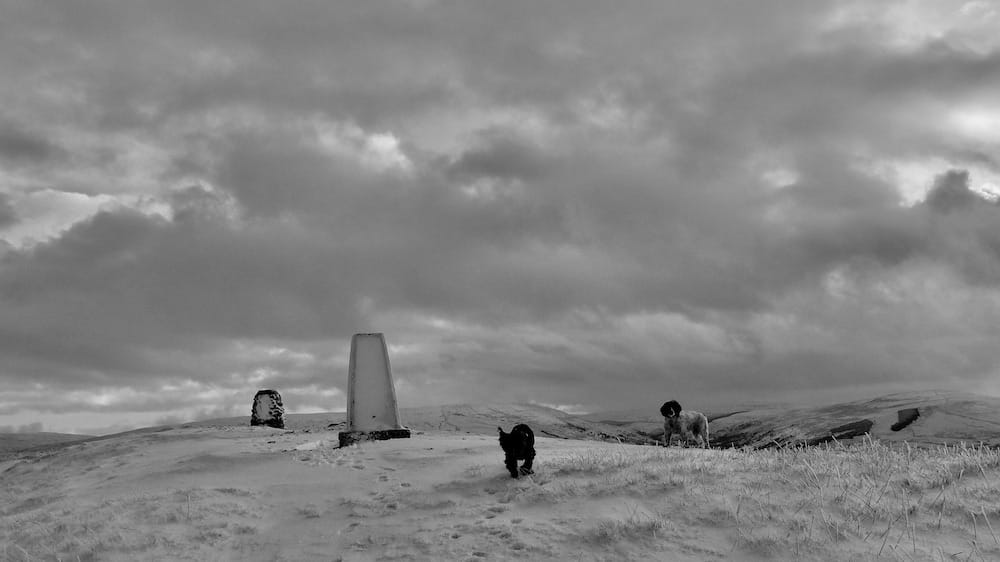 And, of course, this is the wider summit view. Behind the trig point is one of those 360° observation points that maps out the horizon and allows you to spot and identify all the surrounding hills and landmarks.
The winter days are more or less at their shortest now and the dark mornings have been pressing in. The December solstice is in a few days. I also have in mind the sinusoidal curve of day length — there isn't much change at this time of year and it will be a few weeks before the length of the days starts to shift significantly and we feel the difference. Yet, it's always a good time when we pass through the solstice and a weekend morning with snow is a welcome bonus.
---
Previous post
Men Explain Things to Me by Rebecca Solnit
This is a slim volume, made up of seven essays, by Solnit. The first, and most well known, is the 2008 titular essay that, while not using the term
Next post
Purple skies and pink elephants
I do love talking about colour blindness. You can't be in conversation with me too long before I'll raise the topic and I suspect most of my work