17 March 2020
Hired: Six Months Undercover in Low-Wage Britain by James Bloodworth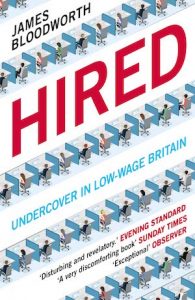 This book details Bloodworth's experiences as he tours through various low paid jobs in England. He starts working in an Amazon warehouse in the Midlands where he works as a 'picker' with a GPS tracker and under near constant surveillance. The work is gruelling, walking many miles per day. It's also apparent that there are few employment rights. The workers are issued with 'strikes' for minor offences, even being off sick for genuine reasons, and once they reach six they are sacked. It is mostly staffed by European immigrants. Few can stick it for any length of time.
Then he comes to Blackpool to work as a carer for CareWatch. Again, it's incredibly low paid work and exhausting with unreasonable demands and little training. Next down to South Wales where he spends time working in a call centre for Admiral, speaking to people in the old mining communities that no longer exist. He comes back to London to do a spell as an Uber driver.
This is Orwell's The Road to Wigan Pier for the 21st century and the gig economy. Bloodworth doesn't spare any time in gouging the myth of 'be your own boss'. It almost feels like it is verging on some Orwellian pastiche in its descriptions, especially when he lingers on the descriptions of the accommodation and the hard scrabble lives of people in low quality accommodation and gig economy wages. Like Orwell, he is scrupulous about the money, offering detailed figures on the incomings and outgoings. The reality of how much one can earn and how the costs of daily living soon fritter it away. The outsourcing of work to agencies adds to this pressure with pay often being late, or wrong. And, of course, when it is wrong people are underpaid.
Bloodworth doesn't spend much time dwelling on the health implications but there is an interesting digression into this during his time working for Amazon. Despite the physical element to the work he puts on weight and feels unhealthy. His accommodation makes it hard to cook and he slips into comfort eating at McDonalds, drinking beer regularly (though probably not beyond recommended limits), and smoking. I'd also be willing to wager that the areas of the towns in which he stayed there is a high density of takeaways outlets, fried chicken shops etc. They will be particularly obesogenic. I'm reminded of the idea of the all-consuming cognitive bandwidth toll that this poverty places on people.
People don't like migration in the general but in the specific they are usually unfussed. They fret about migrants taking their jobs, taking benefits, clogging up the NHS but only when they don't link this to the people they know. Those ones are usually regarded as perfectly OK, somehow the exception to the rule. They are no longer part of the out-group, they are the in-group, and people will perform cognitive contortions to make this work. This is something we all do as humans, it's not some special quality of people in poverty. We all carry that bias with us all the time.
Hired is not a cosy read and it's an uncomfortable insight into the hardship of hard-working people trapped in work environments without rights and with very few options.
---
Previous post
In Extremis: The Life of War Correspondent Marie Colvin by Lindsey Hilsum
In a sense there is a mythologising of Colvin that occurred during her lifetime and has certainly intensified since her death. Her website° states
Next post
American Overdose: The Opioid Tragedy in Three Acts by Chris McGreal
For me, there wasn't any getting over the sheer of horror of this book. It unflinchingly portrays the drug industry in all its absolute criminal