29 October 2022
October 2022 reading list and notes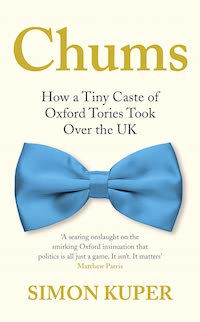 Recommended book of the month
October
'

22
Flying Blind: The 737

MAX

Tragedy and the Fall of Boeing by Peter Robison
To Live by Élisabeth Revol
Chums: How a Tiny Caste of Oxford Tories Took Over the

UK

by Simon Kuper
Breaking the Social Media Prism by Chris Bail
The Life of an

MP

by Jess Phillips
The Little Black Book of Workout Motivation by Michael Matthews
PhD by Published Work by Susan Smith
Quite Ugly One Morning by Christopher Brookmyre
I've already commented on Chums below so won't add more. I happened upon Flying Blind as it was longlisted for the 2022 FT Business Book of the Year. Quite Ugly One Morning was the first Brookmyre book and I had a hankering for a bit of darkly humorous crime.
Scribbles Monthly Reading List
---
Previous post
Exposing the chumocracy
I enjoyed Chums by Simon Kuper and it is certainly a book for modern political times. (Though it would be relevant at any point in recent
Next post
I'm now on Mastodon.
Get yourself signed up to a server and follow me there: @euanlawson@mastodonapp.uk #microblog